41st NSWAPA Metallic Silhouette 200m Big Bore State Championships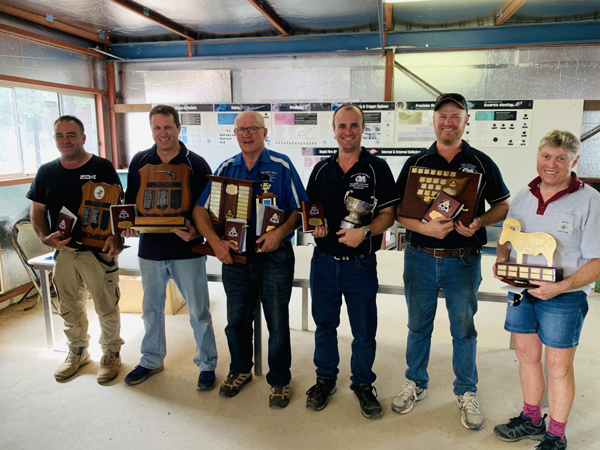 Winners are Grinners – Left to right  Jason Anderson (Production Champion); Jack Ford (Revolver Champion); Kim Emery (Standing Champion and 4 Match Aggregate Champion); Jake Davey (Unlimited Champion); Tim Davey (Unlimited Full Scale Champion); Judy Harding (4 Match Womens Aggregate Champion)
The 41st Metallic Silhouette 200 metre Big Bore State Championships were conducted by the Narrabri Pistol Club on 19-21 March.  More than 30 competitors came from as far afield as Brisbane in the North to Batemans Bay in the South and all points in between. 
For the uninitiated, Handgun 200m Big Bore Metallic Silhouette is a 40-shot match utilising animal shaped metallic targets – 10 chickens at 50m; 10 pigs at 100m; 10 turkeys at 150m; and 10 rams at 200m.  The targets have to be knocked from their stand to score.  The rams weigh approximately 25kg, requiring a fairly heavy cartridge load to accomplish this.  The Championship Aggregates are made up of four categories – Revolver; Production; Standing and Unlimited with Unlimited Full Scale as an extra match.  Each match takes about an hour to complete.  To add a degree of difficulty, the Unlimited match is shot on half scale targets which are half the scale of the full-size targets, meaning they are only one quarter of the size in actual area – quite difficult (the half scale chicken is about the height of a Coke can).  In the event of tied scores, these targets are also utilised as shootoff targets at 200m.
The standard of competition was very high with members of the Queensland, NSW and Australian Teams in attendance.  The strong wind on Friday provided very testing conditions for the competitors.  Fortunately, the wind eased on the Saturday and Sunday providing much more pleasant shooting conditions.
Whilst there were a number of Narrabri members competing, from ex Australian Team members Tim Anderson and David Dewsbury to first match competitors Jeff and Jayden Hamblin, two in particular stood out – Jason Anderson in winning the Production State Championship after a six way shootoff with five other competitors who had all scored the maximum 40/40 and Jack Ford in winning the Revolver State Championship with 39/40.
Results – 2021 NSW State Champions – Revolver Jack Ford 39/40; Production Jason Anderson 40/40; Standing Kim Emery 31/40 (Mt Lindesay); Unlimited Jake Davey 39/40 (Inverell RSM); Unlimited Full Scale Tim Davey 40/40 (Inverell RSM).  The 4 Match Open Aggregate was won by Kim Emery 144/160 and the 4 Match Women's Aggregate by Judy Harding 126/160 (Toogoolawah).
Grade Results for Narrabri PC members included:
Production: International Grade 1st Jason Anderson, 3rd Tim Anderson; AA Grade 1st Ben Dewsbury (now residing in QLD)
Revolver: International Grade 3rd Jason Anderson, AAA 1st Jack Ford and AA 1st Ben Dewsbury.
Standing: AAA Grade 2nd Jason Anderson, AA 1st Jack Ford, A 3rd Ben Dewsbury
Unlimited: International Grade 3rd Tim Anderson, AAA 2nd Jason Anderson, AA 2nd Ben Dewsbury, 3rd Jack Ford.
Full Scale Unlimited: 3rd Tim Anderson.
The Lionesses provided fantastic catering, which was greatly appreciated by the competitors and spectators, keeping everyone's appetite satisfied with fare from the BBQ, a variety of sandwiches, cakes, slices and hot and cold drinks.
The support from Kaputar Motors in providing a range vehicle to transport the target setters to the turkeys and rams for the weekend was greatly appreciated.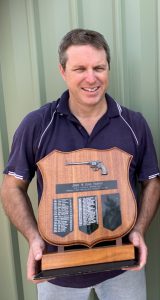 Jack Ford Revolver Champion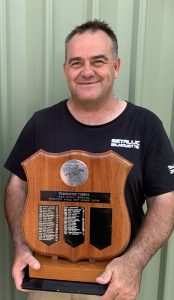 Jason Anderson Production Champion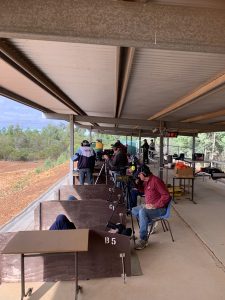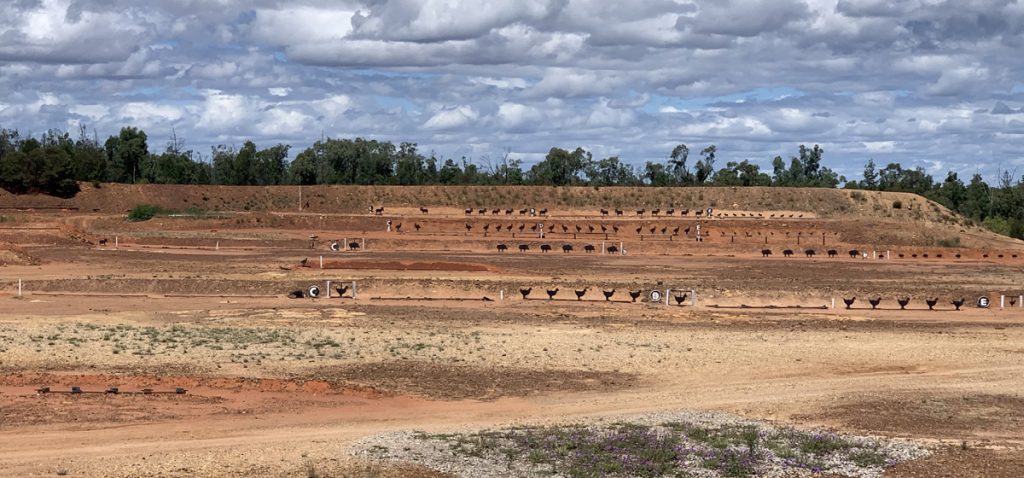 200m Metallic Silhouette Range – note Unlimited category targets on right hand side
Everyone visiting the Range will comply with the relevant COVID-19 Health requirements in force at all times.
Copyright @ 2023 Narrabri Pistol Club